---
Japanesque • Love • Humorous • Emotion • Wonderland • Zodiac signs • A la carte • Drawings
Thank you for your interest in my commission work for you. I am glad that you felt some connection to my Artwork for making your image come out with my brush.
To start the process, first of all, what I would like to ask you to understand is that to order an Artist to creat your own painting means that you are hiring an Artist for weeks.
If you are serious and are the person who already know the real value of the painting which will be created only for you by your chosen artist, I would be happy to talk about the possibility of creating your painting with my brush.
Please see below to learn about the details of my commission works.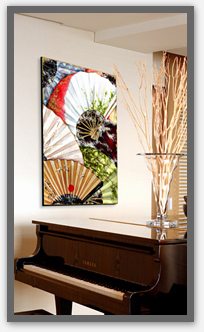 < Painting rate >
- Size -
- Price -
18"x36", 24"x30"
$900 to $1,200up
24"x36"
$1,200 to $1,800up
24"x48", 30"x40"
$18,00 to $2,500up
*The Prices above include all the processes for making your original painting. - such as consultation for creating your image, making draft image in graphic presentation, canvas and paints, painting works, etc...
*Please note that if you need me to ship the painting, it would cost $200 to $500 up for shipping, handling and insurance. It is depend on painting sizes and geographical distance.
*When I start, please allow me to ask you for the payment of half of the fee to insure my time. The payment will be non-refundable.
*To create your commission piece, it would take 2-3 months. I usually make a draft image by graphic to show you first, and after comfirming everything is ok with you, I get on painting so you can clearly see what you are getting before the painting is done.
If this sounds cool for you, I would be more than happy to learn about what you are looking to.