---
Hiroko Sakai Fine Art Gallery
Original Artwork by Japanese Artist Hiroko Sakai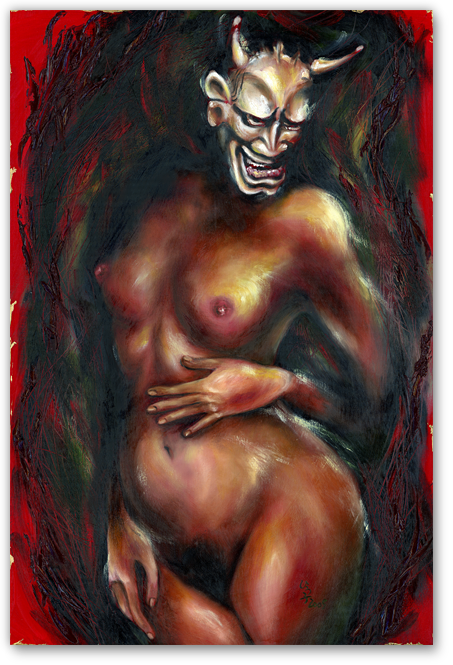 Hannya
---
Oil on canvas
24inch x36inch



Original available
Price 2,473 USD


Also available in:

*Framed Print
*Posters
*Large Poster
*Custom Giclee Prints
*Postcard
Details
Description
The hannya mask is a mask representing a female serpent-demon filled with malicious jealousy and hatred. Worn by women betrayed or spurned by their lovers who turn into serpent demons.
This is the painting from my inspiration in Genji story, which is widely acknowledged as the world's first novel, written by a court lady in Heian Japan (795-1192 AD). Genji, a man of passionate impulses and a lover of beauty, the favorite son of the Emperor, though his position at court is not entirely stable. "Aoi no Ue" is the Genji's first principal wife, married to him when he is 12 and she is four years older. Not surprisingly, she finds him childish, and their relations remain uncomfortable until her death. her death was brought by an evil spirit of Lady Rokujo who is the Widow of the crown prince Prince Zembo and a longtime mistress of Genji.
I was inspired with so strong woman's emotion and love that Lady Rokujo held in her as to change her into evil spirit to attack her rival, which is represented by "Hannya mask" in Noh performance. I wanted to express the naked nature of women that is held in our depth.


Purchase Original Oil Painting "Hannya"
Price $2,473.00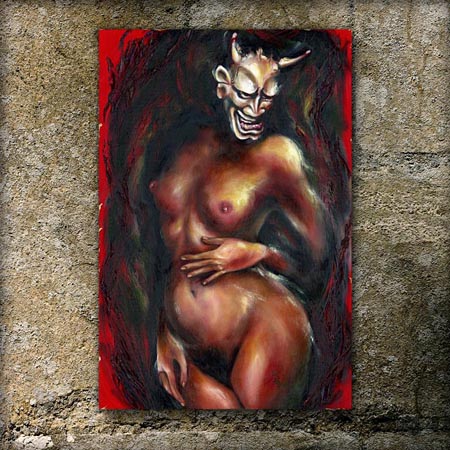 Ship in USA
Shipping & handling $80
▼

---