---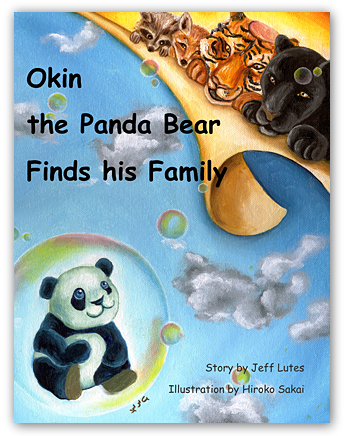 "Okin the Panda Bear Finds his Family"

$14.95
Size 8.5 inch x 11 inch
---
Join the adventure as Okin meets his two daddies, travels to a new home in a new country and learns how to express himself through the beauty of sign language. Okin is truly a magical tale about diversity, deaf culture, adoption, and non-traditional families.
With colorful characters like Quick Paws the Panther; Baldy the Tiger; and panda friends Pang, Kang, Bang, Kew, Pu, and Bao Yu; Okin The Panda Bear Finds His Family is a wonderful tale that shows that God loves all kinds of families . . . even pandas and tigers and panthers that talk with their paws!
"Okin the Panda Bear Finds his Family" is one of the Hiroko's challenge of illustration for children's books. More than 30 paintings were created for this book. Please enjoy her colorful world with adorable animal illustrations!

< Let's lean Sign Language Alphabet with Okin! >
To check Hiroko's artworks more, visit Hiroko's official website >>
www.hirokosakaifineart.com.
< Sample pages >


| | |
| --- | --- |
| Cover | Sample 3 |
| Sample 1 | Sample 4 |
| Sample 2 | Sample 5 |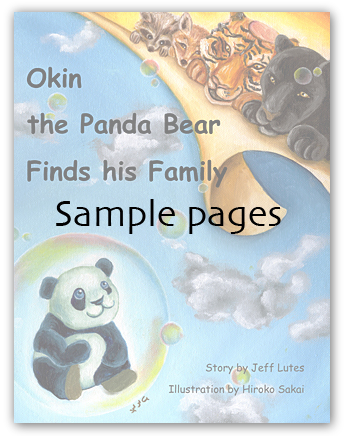 < Reviews & Praise>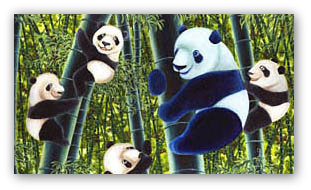 Not since And Tango Makes Three has there been such a joyful book about the experience of same-gender loving parents and their adopted child. From a rich story to colorful illustrations, Okin the Panda Bear Finds his Family adds the diverse elements of sign-language and as my own children pointed out, an interracial set of same-gender parents with one dad being a panther and the other a tiger; my own children said that, "that Okin's parents reminded them of me and my partner, Antonio."
The story is short, sweet and to the point, my kids' only complaint was that it was too short! I think diverse and not so diverse 'modern families,' of all sorts will enjoy this book and it will become a staple in the library of little-ones everywhere!
- Dr Tony Zimbardi-Le Mons,
licensed family therapist and author of Forever Dads; A Gay Couple's Journey to Fatherhood.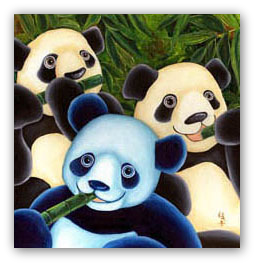 Here's some great news for Heather Has Two Mommies, and all of their fans. An irresistible new family is moving into the neighborhood. Okin the Panda Bear, who cannot hear, and his new tiger and panther dads will delight and reassure adopted children and their loving parents no matter their race, gender and special ability. And I wouldn't be surprised if this beautifully illustrated book turned learning American Paw Language into a new national youth fad.
Okin the Panda Bear Finds his Family belongs in the children's library of any school, community, or family committed to challenging bullying, teasing, and stigma too often visited upon any child or family who seems different from the majority.
- Judith Stacey,
Professor of Sociology, NYU, and author of Unhitched: Love, Marriage and Family Values from West Hollywood to Western China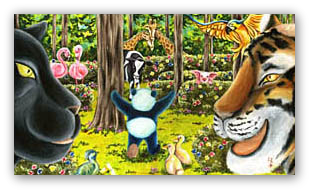 I must admit to a little melancholy on reading this heart-achingly beautiful little book about a panda bear and his diverse, loving family. Why must a world where "all creatures are loved and all families are cherished" exist only in tales for children? But then my wife and I read it with our 6 year old daughter, who both adored the story and seemed altogether unsurprised at the love and acceptance in Okin's family. And I thought to myself, that world really is only a generation away. But only if we tell our children that such a world is theirs to create. That is why Okin the Panda Bear Finds his Family will sit prominently on a bookshelf in our house.
- Ryan Valentine,
Deputy Director, Texas Freedom Network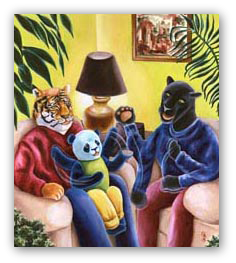 For far too long youth have been bullied for being different. Indeed, sometimes bullying is seen as a rite of passage. Okin the Panda Bear Finds his Family, by Jeff Lutes, celebrates a different cultural and family value in which our differences are cherished rather than shunned or even merely tolerated. This touching and beautifully illustrated story is exactly the imaginative exploration of our human uniqueness that kids and parents will treasure.
- Dr. Sharon Groves,
Director, Religion and Faith Program, Human Rights Campaign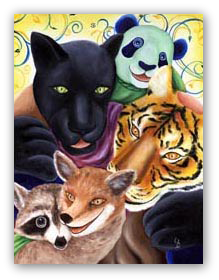 From author Jeff Lutes comes this long-awaited, enchanting, and beautifully crafted story of Okin the Panda. Okin the Panda Bear Finds His Family gives us an astoundingly original story that will change everything you've ever thought about family. If only all "Pandas" could be so fortunate as Okin. Okin's tale has a timeless appeal and one I am certain readers will treasure.
- Candice Towe,
Executive Director & Chief Development Officer, Out Youth.


Purchase "Okin the Panda Bear Finds his Family"

Price $14.95
-Each books come with Hiroko's hand singature!-