---
Metamorphosis • Rebirth • Purr-ple power cat ventures • Okin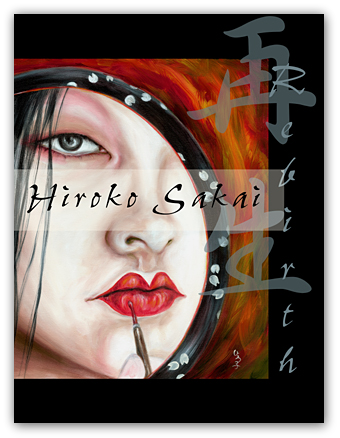 "Rebirth"
---
Softcover $39.29
Hardcover, Dust Jacket $49.64
Hardcover, ImageWrap $53.09


8 inch x 10 inch
The size of the book is just right
to keep on your cafe table.
Purchase
E-book (iBook for iPad format) $9.99
Purchase
---

< Inside of "Rebirth" >
In "Rebirth" Hiroko's artwork is layed out four themes, 'Japanesque', 'Emotion', 'Wonderland', 'Humorous'. All artwork selections were done by the artist herself. This book is one of the best places for you to enjoy a tour of Hiroko's artistic developments.
- Book preview showing 29pages out of 50 pages -

"Ignoring Hiroko's art is impossible. Viewing her images is a forbidden trip into her surrealistic subconscious.
To the eye of Hiroko, nothing is quite so simple, and nothing is quite profane; in her exploration of human nature, anything and everything can be imagined, from insatiable lust to infinite beauty."
Eric Seligson
- Graphic designer, Siderealist


For those who might be hesitating purchasing her Art Book "Rebirth", I want to say that it is well worth its price. If you are like me, and owning an original piece of this fantastic artist's work is a little out of your range, then this book gives you a chance to view many pieces of her work for a very modest price.

I know this sounds like a sales pitch, but I want to assure you Hiroko and I have never met (I'm in Southern California and she's in the Northern part) - and I'm giving this recommendation as a book collector and art lover. It really is a fine book.
- Richard Michael Johnson

Softcover $39.29
Hardcover, Dust Jacket $49.64
Hardcover, ImageWrap $53.09